My Blog
Posts for: April, 2021
By All Smiles
April 20, 2021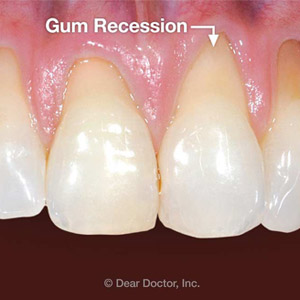 If it seems like your teeth are getting longer as you get older, it's unlikely they're magically growing. More likely, your gums are shrinking or receding from your teeth. Besides the negative effect on your appearance, gum recession exposes you and vulnerable tooth areas to harmful bacteria and painful sensitivity.
Although common among older adults, gum recession isn't necessarily a part of aging: It's primarily caused by periodontal (gum) disease, in which infected gum tissues can weaken and detach from the teeth. This, along with bone loss, leads to recession.
But gum disease isn't the only cause—ironically, brushing your teeth to prevent dental disease can also contribute to recession. By brushing too aggressively or too often (more than twice a day), you could eventually damage the gums and cause them to recede. Tobacco use and oral piercings can also lead to weakened or damaged gums susceptible to recession.
You can lower your risk of gum recession by abstaining from unhealthy habits and proper oral hygiene to prevent gum disease. For the latter, your primary defense is gentle but thorough brushing and flossing every day to remove harmful dental plaque. You should also see your dentist at least twice a year for professional dental cleanings and checkups.
If, however, you do experience gum recession, there are a number of ways to restore your gums or at least minimize the recession. To start with, we must treat any gum disease present by thoroughly removing all plaque and tartar (calcified plaque), which fuels the infection. This reduces inflammation and allows the gums to heal.
With mild recession, the gums may rejuvenate enough tissue to recover the teeth during healing. If not, we may be able to treat exposed areas with a tooth-colored material that protects the surface, relieves discomfort and improves appearance.
If the recession is more advanced, we may still be able to stimulate gum regeneration by attaching a tissue graft with a micro-surgical procedure. These types of periodontal surgeries, however, can require a high degree of technical and artistic skill for best results.
In any event, the sooner we detect gum disease or recession, the quicker we can act to minimize the damage. Doing so will ensure your gums are healthy enough to protect your teeth and preserve your smile.
If you would like more information on gum recession, please contact us or schedule an appointment for a consultation. You can also learn more about this topic by reading the Dear Doctor magazine article "Gum Recession."
By All Smiles
April 10, 2021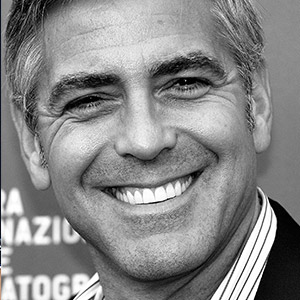 Since his breakout role as Dr. Doug Ross in the 90's TV drama ER, George Clooney has enjoyed a blockbuster career as an award-winning actor, director and producer. He's still going strong, as seen in the recent film The Midnight Sky, which Clooney directed and starred in. This sci-fi drama set a record as the most-watched movie on Netflix for the first five days after its late December release. And although now well into middle age, Clooney still possesses a winsome charm epitomized by his devil-may-care smile.
But he didn't always have his enigmatic grin. Early on, his struggles pursuing his burgeoning acting career triggered a stressful habit of grinding his teeth. This took a toll, as his teeth began to look worn and yellowed, giving his smile—and him—a prematurely aged appearance.
Clooney's not alone. For many of us, our fast-paced lives have created undue stress that we struggle to manage. This pent-up stress has to go somewhere, and for a number of individuals it's expressed through involuntary grinding or gritting of the teeth. This may not only lead to serious dental problems, but it can also diminish an otherwise attractive smile.
There are ways to minimize teeth grinding, the most important of which is to address the underlying stress fueling the habit. It's possible to get a handle on stress through professional counseling, biofeedback therapy, meditation or other relaxation techniques. You can also reduce the habit's effects with a custom-made oral device that prevents the teeth from making solid contact during a grinding episode.
But what if teeth grinding has already taken a toll on your teeth making them look worn down? Do what Clooney did—put a new "face" on your teeth with dental veneers. These thin layers of porcelain are bonded to teeth to mask all sorts of blemishes, including chips, heavy staining and, yes, teeth that appear shortened due to accelerated wearing. And they're custom-designed and fashioned to blend seamlessly with other teeth to transform your smile. Although they're not indestructible, they're quite durable and can last for years.
Veneers can correct many mild to moderate dental defects, but if your teeth are in worse shape, porcelain crowns may be the answer. A crown, which bonds to a prepared tooth to completely cover it, allows you the advantage of keeping your natural tooth while still enhancing its appearance.
Although different in degree, both veneers and crowns require permanently altering the teeth, such that they will require a dental restoration from then on. But if you're looking for an effective way to transform your worn or otherwise distressed teeth into a beautiful smile, it's a sound investment.
Just like George Clooney, your smile is an important part of who you are. We can help you make it as appealing as possible with veneers or other dental enhancements. Call us today to get started on the path to a more attractive smile.
If you would like more information about dental veneers and other smile enhancements, please contact us or schedule a consultation. To learn more, read the Dear Doctor magazine article "Porcelain Veneers."