My Blog
Posts for: February, 2021
By All Smiles
February 19, 2021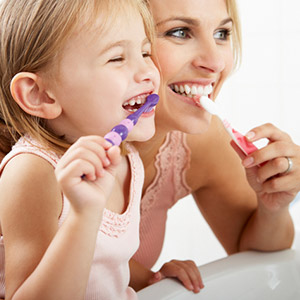 February is Children's Dental Health Month—the perfect time to talk about the oral health of the little ones in your family. According to the U.S. Centers for Disease Control, one out of every five children ages 5 to 11 has at least one untreated cavity. Although this statistic may not seem terribly significant given that primary teeth fall out anyway, dental disease is a concern even for kids.
Just as with adult teeth, baby teeth are needed for eating, speaking and smiling. Besides these obvious functions, primary teeth serve a crucial role as placeholders for the corresponding permanent teeth. If they are lost early, the adult teeth could come in crooked, crowded or out of place, increasing the chances of needing complex and costly treatment later. And because the enamel on primary teeth is thinner than that of permanent teeth, baby teeth are more vulnerable to decay, which can spread quickly—both to the inside of the tooth and to neighboring teeth. Decaying teeth can cause pain, which may interfere with getting proper nutrition. In addition, children with poor dental health are more likely to miss school and are much more likely to suffer from decay in their permanent teeth.
Fortunately, many dental problems can be avoided by following a few guidelines:
Instill good oral hygiene habits in your child. Teach children to brush twice a day with fluoride toothpaste and, when they are old enough, to floss once a day. (A handheld flosser can make flossing easier for young ones.) Preventing dental disease through good daily habits can save a lot of trouble down the line.
Offer nutritious foods. For healthy teeth and a healthy body, encourage your child to make nutritious food choices. Instead of sugary snacks, opt for fruits, vegetables and cheese. And choose plain water instead of soda, fruit juice or sweetened beverages.
Keep up with regular checkups and cleanings. The world's health focus has been all about COVID-19 and in an effort to isolate as much as possible some parents may have put off routine dental checkups for their children. However, it is important for the dental team to monitor the health of little mouths to keep small problems from turning into bigger, potentially painful ones. When it comes to infection control, dental professionals go above and beyond the minimum requirements to protect you and your loved ones. We are committed to a higher standard, following protocols that help ensure your health and safety.
Talk with us about preventive treatments. During your child's visit, ask whether a topical fluoride treatment or dental sealants are recommended. These affordable ways to help prevent cavities can benefit many children.
The key to healthy smiles for life is to start early. A good day-to-day dental hygiene habit along with healthy food choices and regular dental checkups can set your child on the course for a lifetime of good oral health.
If you would like more information about how to maintain your child's dental health, please contact us or schedule a consultation. To learn more, read the Dear Doctor magazine article "Dentistry & Oral Health for Children."
By All Smiles
February 09, 2021

Over the years, dentists have become quite proficient in treating even the most severe periodontal (gum) disease. Many of these positive outcomes are achieved through manual effort using simple hand instruments called scalars and conventional periodontal surgery.
But that might be changing soon: Periodontists (specialists who care for the gums and other supporting dental structures) are starting to use a different kind of tool for gum disease treatment—surgical lasers.
Although lasers are more commonplace in other fields of medicine, recent developments hint at a more prominent future role for them in dentistry. One of these developments is a laser procedure called Laser Assisted New Attachment Procedure (LANAP®) that treats deep spaces of infection called periodontal pockets, which develop advanced gum disease.
These pockets form as infected gums gradually detach from a tooth as the supporting bone is lost. This widens the normally narrow gap between the teeth and gums. The ensuing pocket fills with infection that must be removed to adequately treat the gum disease. As the pocket extends down to the root, it's often necessary to perform a surgical procedure through the adjacent gum tissue to fully access it.
But with the LANAP® procedure, the dentist can use a laser to access a deep pocket without opening the gums. Moving from above into the gap between the tooth and gums, the light from the laser has the ability to remove diseased tissue without damaging healthy tissue.
The dentist follows this with ultrasonic equipment and manual scalers to further decontaminate the tooth root surface. The laser is then employed once again to facilitate the formation of a blood clot between the teeth and gums to seal the area with a fibrin clot. Once treated, the dentist will monitor the tooth to ensure maximum bone regeneration and gum reattachment.
Although outcomes are the same for the most part, this laser technique for periodontal pockets may have some advantages over conventional surgery. Studies so far show that LANAP® causes less tissue removal and bleeding, less potential for gum recession and less discomfort experienced by patients.
It's not likely that lasers will fully replace conventional gum disease treatments any time soon. But if the encouraging evidence thus far continues, the laser will one day become as commonplace alongside the other tools used for gum disease treatment.
If you would like more information on treatments for gum disease, please contact us or schedule an appointment for a consultation. You can also learn more about this topic by reading the Dear Doctor magazine article "Treating Gum Disease With Lasers."