My Blog
Posts for tag: nutrition
By All Smiles
July 21, 2020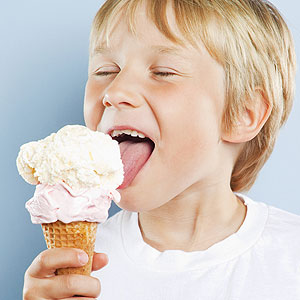 If you love ice cream, then you'll get a kick out of this: Your favorite treat has its own month. That's right, July is National Ice Cream Month, when we celebrate—and indulge in—one of the most delicious concoctions ever known. Just don't overdo it, among other reasons, for the sake of your teeth.
In a way, it's a bit of a love-hate relationship between this frozen wonderfulness and your dental health. Like any dairy, ice cream is full of nutrients like calcium, phosphorous and vitamin D that together strengthen tooth enamel and help prevent decay. But this nutritional benefit is tempered in most ice cream by its other major ingredient: sugar.
Sugar can be a problem for your teeth because disease-causing oral bacteria love it just as much as you do. It's a prime food source for them, and when there's a lot available (like right after you finish that dipped cone) bacteria go crazy multiplying and producing acid. This could lead to tooth decay or gum disease.
Sugar's effect on dental health is an issue not only with ice cream but with other desserts and sweetened snacks as well. What can you do, then, to have your ice cream (or cake) and your dental health too?
Moderate your consumption. We're not saying you have to give up sweet desserts like ice cream—just keep your portions small and infrequent. Partake of them mainly as an occasional treat rather than as standard everyday fare.
Brush after eating. The biggest threat to dental health is the sugar that lingers in the mouth after we eat something sweet like ice cream. So, wash your mouth out with water and then brush your teeth after eating to remove any residual sugar. But not right away—give your saliva a chance to neutralize any mouth acid first by waiting about thirty minutes.
Choose healthier options. Instead of diving into a bowl of butter pecan or rocky road when you get the urge to snack, try a little non-fat Greek yogurt or cheese with some fresh fruit. Choosing alternatives like these can still give you the benefit of dairy without the excess sugar.
Ice cream is one of those indulgent little pleasures that make life sweet. Just be sure you're enjoying it within healthy limits to protect your dental health.
If you would like more information about nutrition and dental health, please contact us or schedule a consultation. To learn more, read the Dear Doctor magazine articles "Nutrition & Oral Health" and "The Bitter Truth About Sugar."
By All Smiles
September 20, 2018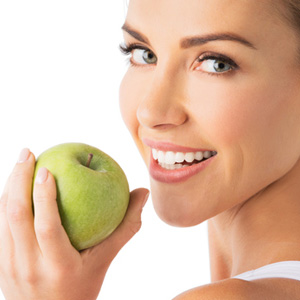 If you're brushing and flossing daily, as well as seeing your dentist at least every six months, you're doing the top things needed to maintain your dental health. But all your hygiene efforts could be undermined if you're not eating a dental-friendly diet. Simply put, there are foods that protect and promote dental health and those that increase your risk of dental disease.
Diets in the latter category are typically high in added sugar and low in natural food fiber. The largest sources of these are processed sugars from sugar cane or beets and high fructose corn syrup. With just a little knowledgeable label reading, you can find sugar and its various aliases added to thousands of processed food items including pastries, candies, sodas and energy drinks.
Heavy consumption of processed sugars also contributes to dental disease. Disease-causing bacteria thrive on sugar as a food source, which fuels both their growth and their production of oral acid. Elevated acid levels can dissolve the minerals in tooth enamel faster than saliva can keep up. Softened enamel opens the door to tooth decay, while increased bacterial growth can lead to periodontal (gum) disease.
A diet, however, low in added sugar and high in fiber can have the opposite effect. Although fresh fruits and vegetables contain natural sugars, they also have indigestible parts called fiber that slow the digestion of any sugars and allow the body to more efficiently process them.  With the higher quantity of vitamins and minerals found in unprocessed foods, the overall effect of this diet is a decrease in your risk for dental disease.
Speaking of dental-friendly foods, we should also give honorable mentions to certain dairy items like cheese and milk that stimulate saliva production and are rich in calcium needed for tooth strength. Another beneficial category is both black and green tea, which contain antioxidants to fight disease and fluoride to strengthen enamel.
Adopting a low-sugar/high-fiber diet can have a profound impact on your overall health. Over time, you'll also reap dental health rewards with stronger teeth and gums and a lower risk of tooth decay and gum disease.
If you would like more information on diet and oral health, please contact us or schedule an appointment for a consultation. You can also learn more about this topic by reading the Dear Doctor magazine article "Nutrition & Oral Health."